See what each lighthouse brought at Auction!

view the BID LIST
| | |
| --- | --- |
| | The live auction was held on the evening of September 18, 2008. Winning bids can be viewed on the bid list. Congratulations to the winning bidders! And thank you, artists, volunteers, sponsors, bidders, and everyone who attended and showed their support for this fabulous event. |

Auction Rules:

The auction of these beautiful lighthouses will take place September 18, 2008 from 6:00 to 8:30 p.m. at Castaway Bay Resort in Sandusky. Advance bids may be placed through this web site and you may continue to bid during the live auction in person or by phone.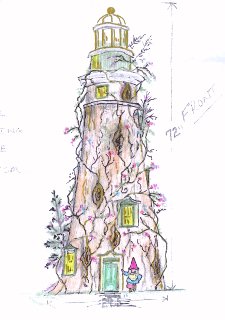 Advance bids must be secured with a credit card (VISA, Mastercard, AmEx, Discover), HOWEVER, not charged to the card until completion of the auction. Because this is not a secure web-site when you enter a bid we will request your contact information. We will then verify your information by phone and request a credit card number to hold the bid.

The amount of confirmed bids will be posted to the website, which will be updated daily. Only the highest bid for each lighthouse will be posted. In the case of identical bid, first in wins. For privacy sake, only your initials will be shown after the bid amount, so you can track your bid.

We invite you to attend the auction on the night of September 18th. Auction details are being finalized, but the live auction will take place sometime between 7:00 and 8:30 p.m. on Thursday, September 18th. If you are unable to attend and want to continue bidding up to the last minute, we will have proxy voters available for you to place your bid via phone.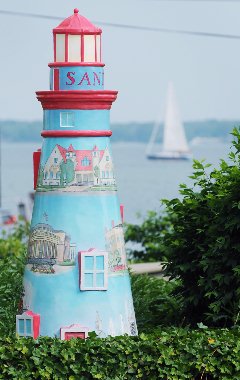 The minimum advanced bid on all lighthouses is $500. Bids may increase in $20 increments.

On-line bidding will end at midnight on September 17, 2008. Highest bids on each lighthouse will become the opening bid at the auction. We will confirm with you by phone if you wish to continue in the bidding process.

*Delivery: Free delivery within 25 miles for sales over $2,000. Deliver fees are: Sandusky Area (Sandusky, Perkins, Huron): $25, Within 25 miles: $50, 25 - 75 miles: $100, over
75 miles: To be determined by freight charges.

Upon completion of the auction successful bidders, on-line or in person will make payment by cash, check or credit card to the cashier at the auction or if bidding by phone, by credit card.

We regret that not all of the lighthouses are available for auction. Some of the lighthouses were pre-sold to sponsors. Sponsors were given an option to buy their lighthouse in advance. Ten sponsors paid for their individual lighthouse. We are very appreciative of their support!
Go to the BID LIST now!
You may
email the Red Cross Firelands Chapter
office at
mike@firelandsredcross.org
back to top
back to
A Light in the Harbor
home page
Sponsored by: American Red Cross Firelands Chapter,
Merry-Go-Round Museum and United Way of Erie County


back to top